©Adobe Stock
Germany's deteriorating trade balance helps explain the fundamentals of the euro's weekly flows, according to an analyst at BMO Capital Markets.
Germany recorded a nominal merchandise trade surplus of 3.2 billion euros in March, compared to 7.9 billion euros in February according to Destatis.
German exports are down 3.3% and imports up 3.4% in calendar and seasonally adjusted data compared to February 2022.
---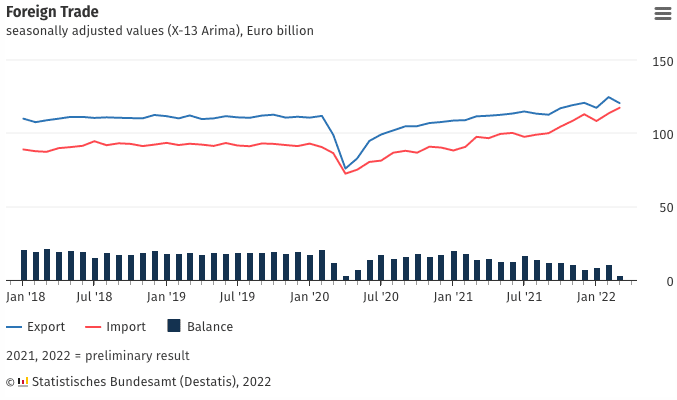 ---
In the first quarter as a whole, exports grew 1.6% quarter-on-quarter, while imports rose 4.1%.
Stephen Gallo, head of European currency strategy at BMO Capital Markets in London, said the result leaves Germany's trade surplus just 130 million euros above its low in 2000 (3, €07).
He says that in seasonally adjusted terms, Germany has had a merchandise trade surplus every month since June 1991.
These developments meant that Germany's terms of trade index fell to its lowest level since the mid-1980s during the first quarter.
Germany's trade surplus has long been a fundamental source of support for the euro and its evolution from there will continue to guide the bloc's single currency.
"We believe that Germany's weak net trade figures largely explain the weak fundamental flow in the euro, given the weak net short position in EURUSD from leveraged funds," says Gallo.
According to Destatis, compared to February 2022, exports to the Russian Federation decreased by 62.3% to €0.9 billion in March 2022 due to sanctions imposed following the invasion of Ukraine by Russia.
But imports from Russia fell by just 2.4% to 3.6 billion euros over the same period.
The inelastic nature of German imports from Russia reflects the country's heavy dependence on Russian hydrocarbons, especially gas and oil.
Germany exported goods worth €66.6 billion to EU member states, while it imported goods worth €56.7 billion in March 2022.
Exports to the United States increased to 11.5 billion euros, but exports to China fell 4.3% to 9.1 billion euros, reflecting a divergence in economic fortunes between the first and the world's second largest economy.
But China still managed to export goods worth 16.3 billion euros to Germany, an increase of 15.8 percent from the previous month.
Exports to the UK decreased by 3.9% to €5.5 billion and imports from the UK increased by 40.8% to €3.7 billion during the same period, suggesting an improvement in the UK's trading position with Europe's largest economy.