The USDX reversed from its recent high on Friday, just as the dollar fell against several other major and emerging currencies. USD/MXN even fell more than one percent, while pairs like USD/ZAR and USD/CNH stabilized.
The rally in crypto markets that started around the middle of last week continued with Bitcoin trading at a new weekly high on Monday at levels near $22,000, while Ethereum was even at a high. month, breaking above the $1,400 mark and trading Monday morning up about 25% from a week ago. With these developments, it is now estimated that the total crypto market capitalization has once again exceeded the value of one trillion dollars.
Stock markets were broadly bullish on Friday, with most of the world's major equity indices, including the US Tech 100, Europe and Japan 225 (Yen), closing higher. On Monday morning, sentiment was also cautiously positive as by then even China's A50 index was beginning to rally after falling more than 4% last week.
On Monday, Italy's trade balance data for May will be released, followed by housing starts statistics for Canada's housing market and the US housing market index.
EUR/USD
Just as the dollar has come back from its recent position of strength, the EUR/USD rate has recovered more vigorously above the par value, sometimes even above the threshold of 1.01.
The Eurozone trade balance statistic for May released on Friday showed some improvement from the previous month, with the trade balance deficit narrowing from 31.7 billion euros to 26.0 billion euros, exports increased by 4.8% on a monthly basis, outpacing the increase in the value of imports by 2.0%.
We can expect relatively few major data releases at the start of this week. Then, on Tuesday, the statistics for the consumer price index (CPI) for the euro zone will be published. Preliminary data released earlier this month indicated an annual rate of consumer price inflation of 8.6%. A key event this week could be the European Central Bank (ECB) monetary policy decision due on Thursday.
Gold
Gold prices were down on Friday for the fifth straight week, although no new lows from Thursday were tested on Friday. A similar trend could also be seen in the silver market. Platinum also fell sharply to a new low since 2020 last week, while the decline in the value of palladium pushed the price into the red in July despite strong gains earlier in the month.
The weekly Commitment of Traders (COT) report released by the US CFTC on Friday was in terms of net speculative positions in gold futures, again showing a decrease in net long positions as the figure fell to 118.1 thousand, while for silver futures the positions decreased to 3.2 thousand. .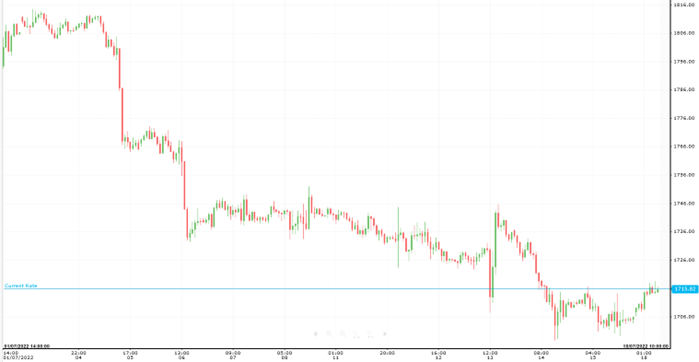 Brent oil
Oil prices rose again on the last trading day of the week, although this was not enough to offset the sharp price decline seen at the start of the week, meaning Brent prices stabilized on a weekly basis lower for the fifth time in a row.
The number of U.S. Baker Hughes oil rigs increased slightly again on Friday with now 599 oil rigs reported in operation – the highest value since March 2020.
As usual on Tuesday, the American Petroleum Institute (API) releases its weekly statistical bulletin, followed on Wednesday by data from the Energy Information Administration (EIA), which will also include data on the evolution of crude oil inventories, d gasoline and distillates.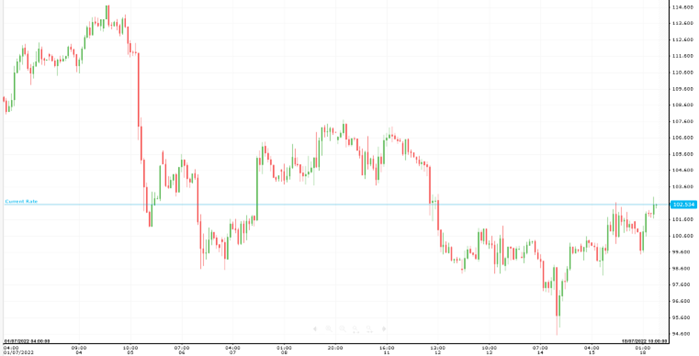 500 United States
Stock indices closed higher on Friday for the second day in a row, recouping most of the losses suffered in the first three days of the week.
Once again, stocks in the chip sector (US Semiconductors ETF +2.65%) outperformed the market average. Energy sector stocks (US Energy ETF +1.96%) also performed reasonably well as oil prices rose on Friday for the third day in a row.
Netflix (+8.25%) was one of the best performing stocks across major indices. The company recently announced that it plans to launch subscription plans that will include advertisements. Microsoft has been named technology and business partner for this new offering.
Earnings season started last week with few companies, including Delta Air Lines as well as some banks like Citigroup and JP Morgan Chase, reporting earnings. This week, we can expect even more blue-chip earnings, starting with Bank of America, Goldman Sachs and IBM on Monday, followed by Johnson & Johnson, Halliburton, Lockheed Martin and Netflix on Tuesday.