As many major crypto coins continued to rally, the estimated total crypto market capitalization jumped well above the $950 billion mark after the metric occasionally dipped over the weekend. below the $850 billion threshold. Bitcoin was trading Tuesday morning above $21,000, while Ethereum at levels around $1,150 was near Monday's high. Strong appreciations have been seen among some altcoins like Polkadot and Solana, with these cryptos gaining week-to-date by around 16%.
Stock indices traded Tuesday morning broadly higher than Friday, with even the Japan 225 (Yen) index rallying after falling to a three-month intraday low on Monday. The VIX volatility index continued to decline gradually, now approaching levels seen a month ago, although at that time the US 500 index was trading around 4% higher than Tuesday morning.
On Tuesday in the United States, existing home sales data for the month of May will be released, along with the Chicago Fed National Activity Index (CFNAI). In Canada, retail sales data for April will be released, while in New Zealand trade balance statistics can be expected for May.
EUR/USD
While the dollar was trading weaker overall against most other major currencies, the EUR/USD also managed to appreciate and trade solidly above the 1.05 mark during the major part of the day. The Euro itself was trading at that time quite mixed against other currencies with pairs like EUR/CHF and EUR/SEK declining, while EUR/GBP and EUR /JPY remained in the green.
For this week, the ECB has scheduled a meeting of its Governing Council for a non-monetary policy meeting for Wednesday, while on Thursday the General Council of the ECB is due to meet in Frankfurt.
Gold
Gold and silver prices are trading slightly lower since the start of the week, while palladium was Tuesday morning up about 3% from Friday's closing level.
The US 10-year T-Note shed Tuesday morning to levels near 3.3% after the long break over the weekend, a moderate rise from Friday's EOD, although still well within the range seen in the previous very volatile week for many markets.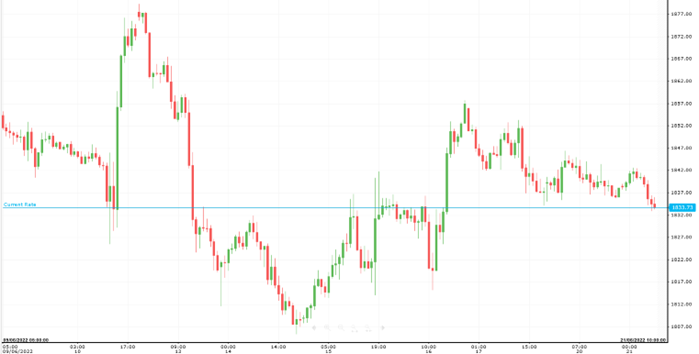 WTI oil
Oil prices rebounded to levels above $110 a barrel for WTI crude on Tuesday after hitting a new one-month low earlier in the week with a barrel sometimes priced below $107 in the futures market .
In terms of geopolitics, Iran's potential concession in the new nuclear deal talks, abandoning its insistence that its IRGC be removed from the list of organizations the United States considers terrorist groups could be considered a significant step forward.
Due to a holiday in the United States on Monday, the release of weekly oil inventory data will be a day later than usual, with the American Petroleum Institute (API) releasing its weekly statistical bulletin on Wednesday and l Energy Information Administration (EIA) releasing its weekly crude oil, gasoline and distillate inventories data on Wednesday.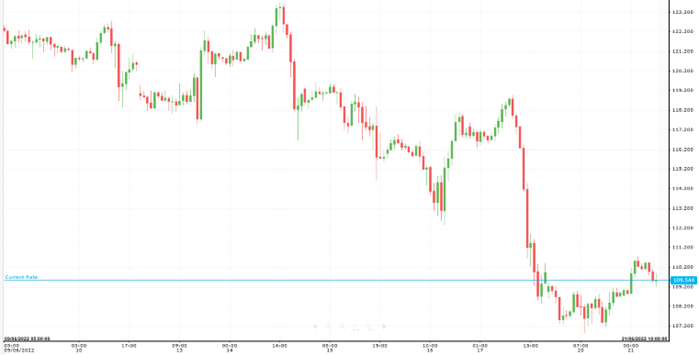 Europe 50
In the overall moderately bullish market sentiment, European equity indices such as the Europe 50 and Germany 40 traded higher at a time when significant trends were coming from the US as many markets remained closed there. due to a public holiday.
One of the best performing sectors on Monday was the airline industry with shares of Airfrance KLM (+8.30%) and Lufthansa (+7.01%) performing very well. A positive performance was also seen among many companies involved in the food delivery sector such as Just Eat Takeaway.com (+3.20%), HelloFresh (+3.45%) and Delivery Hero (+4.09). %).
Eurozone-relevant fundamental data releases can be expected, especially towards the end of the week, when for example German and Eurozone services statistics and the manufacturing PMI will be released on Thursday and data of the French business climate indicator will also be available.